There is news that robots could soon be herding sheep!  The graphic above explains that sheepdogs only really do two things and of course no-one has noticed that they (a) do it naturally and (b) do it in partnership with people!  They learn, and some do it very well and some do not.  However, they do have an advantage over robots in terms of covering rough ground, although possibly some disadvantages in terms of temperament – sheepdogs will occasionally call it a day when they have had enough and one assumes robots will only do this when they run out of fuel!  Presumably eventually the robot could be sent out without human company …
However, the recent work is not new, as in 2001 a team was working on a robot which herded geese (on which young sheepdogs often practice).  The link is http://www.cs.ox.ac.uk/stephen.cameron/sheepdog/ and the article is quite interesting.  And their work was developed from studies in 1996.  Several sheepdogs will have been trained, worked and even retired during this time …
Meanwhile, literature provides examples of various types: the heroic Babe sheep-pig, the villainous Preston (a robot!) and the intelligent, handsome and generally wonderful Grommit.  This is all apart from the electric sheep of which Philip K. Dick's androids may have dreamed …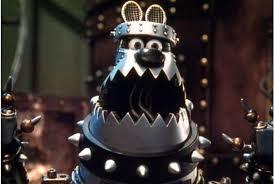 By way of contrast, here are some real working dogs:at a UK competition, in Australia and in disguise!
Much better!
When there is no news, in the silly season, which sometimes lasts all summer in the UK … the media resort to entertainment instead.  I will forebear to comment on the spin of content or omission which plagues most news media all through the year!  Behind the sheep robot idea come more; around crowd control or even control of other robots …
Anyway, I suppose I have joined the silly season too.  However, it did remind me that there is a chapter devoted to the sheep dog in Philip Walling's book, Counting Sheep, which I recommended a couple of months ago and which still inspires and educates me, as so much of what we do at The Natural Fibre Company, Blacker Yarns and in my own and other flocks is thought provoking and also based on a great feeling of building upon the experience and knowledge of thousands of years …. as of course is the robot concept, just not quite as photogenic or emotionally satisfying somehow!