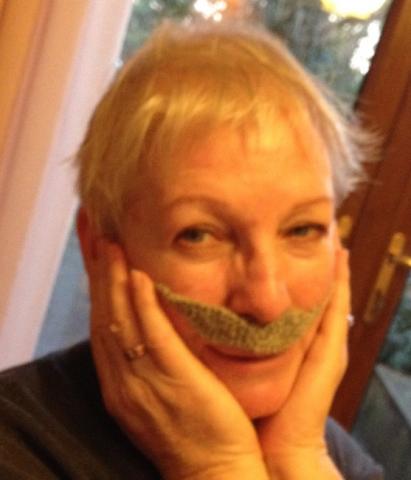 None of my family has a moustache (or not to speak of anyway!) so to contribute to the Movember movement we needed to make some … well to be more precise I had to make some as I have yet to find the time to teach the obviously very willing volunteers to knit!
We will be sending a donation to Movember and hope you like our efforts!  The design is in Gotland aran, worked on 3.25mm needles in garter stitch to make a dense fabric, slipping the first stitch of each row knitwise to keep a tight edge. 
It is started from the centre and then the second half is worked to match the first by picking up along the cast-on.  This also provides a nice long tail to tie the moustache in place and helps to finish the end with a point.
Cast on 4-5 sts for a small version, 6-8 for a larger one.  Work about 5 rows and then increase around 2/3 of the way through the row by knitting into the front and back of a stitch.  Repeat this increase every 3 rows until you have around 10 sts for the smaller version and 15 for the larger one.  Then decrease in the same way, by k2tog, but continue to decrease to a point and pull the yarn through the last stitch after the last k2tog.
Here is the smaller version in close-up – you will also find over 40 designs on Ravelry if you want some other ideas …