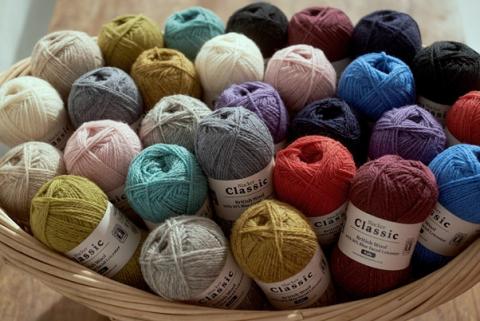 I always feel a little pang of regret when the joyous celebrations of Wovember are over and was so glad to see the continuing inspiration and novelty from sheep, through language and pictures, this year.  For the sake of completeness I am adding the two final parts of our yarn designing information, as it very much reflects our journey in making and I hope it will encourage comments and ideas. 
This part of the series focuses on designing Blacker Yarns … our Classic British range is illustrated above with its new updated ballband – we now have a progression of ball-band styels to exemplify each of our ranges.  This design work is also the sort of advice and support we can provide to Natural Fibre Company customers to help them make their products fly off the shelves!
PART THREE
Blacker  Yarns: what actually works?
This is the question of the fibre/yarn compatibility …
Personal taste does play a role here – we tend to like yarns with some "presence" – over-soft worsted yarns can be like knitting with cooked spaghetti, but equally some fibres do not seem ideal for some yarn specifications.  Therefore, after careful assessment, we are not making more aran-weight Shetland or Blue-faced Leicester yarns as the bulkiness does not best suit the fibre and similarly we are not making 4-ply in Ryeland. 
We now make our Blue-faced Leicester as worsted spun, but our Gotland as woollen spun, because these seem the most compatible with the fibres: worsted spun Gotland, although delightfully soft, can shed, while woollen spun Blue-faced Leicester is not quite as lovely as worsted spun.  Equally, we made our Herdwick in woollen spun aran weight but have seen some great worsted spun and blended yarns from Natural Fibre Company customers, who, however, are specialists in the Herdwick, while we focus on a range of regional and rare breeds.
We would never, of course, say never!  We know that a hand-spun or specially selected yarn can be wonderful in a way that our machine-spun yarns are not.  We also know that we cannot always get the quality of fleece which would make the perfect yarn.  So we have to do our best and make judgements from what we can source and what enables at least a degree of repeatability.
Can we actually make it?
Aha!   Yes!  Believe it or not, there are yarns and styles we cannot make. 
For example, we do not have a fancy twister to ply boucle or soluble core yarns.  Nor do we have a machine able to make brushed yarns, so some of the traditional mohair styles are not possible for us.  Indeed, there is now no UK capability in brushed yarns, though fancy yarns are still able to be made here. 
Also partly due to the cost of new mandrils (around £500 each!), we are limited in the range of sizes and designs available from our ballwinder, and thus also for labelling them, though we now also offer hand twisted skeins/hanks and various labelling options.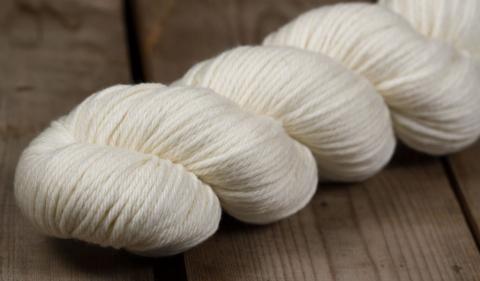 Similarly we cannot at present make woollen yarns finer than around 15 YSW or 7-8 NM or worsted yarns beyond 20 NM at present.  We can only make roving yarns with some difficulty and for experimental purposes.  But watch this space, and it still depends on the fibre, as we can go finer with some than with others. 
Also we are able to work with others, to commission special scouring or finishes.  Once again, it is partly a question of demand and partly of commercial reality – we do not actually have many requests for some of these options.  It is always difficult to know, though, as we now have a waiting list for worsted spinning, which was only 20% utilised when we installed it at first, and the same applies to our dyeing facilities, so if we can justify it we will always try to do more.