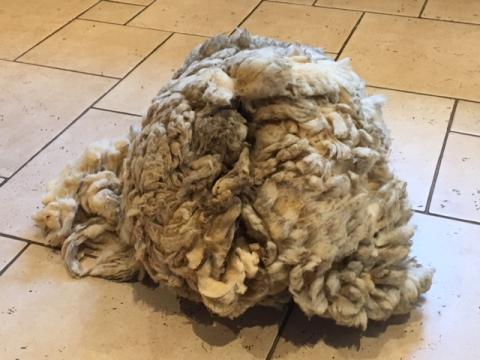 Here is an unskirted white Ryeland fleece on my kitchen floor.  The grouting of the tiles will give some idea of the dimensions.  It weighed around 2.5kg before I started skirting it.
Firstly, we take a look at both sides: the outside is normally dirtier as it has been nearer to the world, and the inside is cleaner and shows the difference as the ends are all shorn rather than pointy.
In this case, someone has sprayed a useful number 4 onto the outside of the fleece as well – we try to discourage this practice at The Natural Fibre Company as sheep generally find their own lambs without needing to check the numbers … although this is less easy for shepherds.  It is much better for fleece quality if the spray can be limited to the haunch where the fleece is generally of lower quality than the flank where it will be the best quality.
Now we look at what to remove.
Giving the fleece a bit of a shake will remove the second cuts and shorter bits (left above) and then we look to pull off the areas of gross small contamination from earth or dirt (centre above) and also the shorter sweaty edge wool around the neck which will not scour clean and is too short to spin (right above).
We are lucky with this fleece as someone has already removed any dags or faeces from the rear end, although we did find the belly wool dumped back into the centre of the fleece before it was rolled, and which we removed as it simply reduces quality, being dirty and short (see below).
Next we look for other things unlikely to help the final quality of a spun yarn or piece of felt.
These include pieces of hay or straw which can be pulled off, the graffiti dyed number 4 and really dirty tangled wool from the edges of the fleece.  If there is an area full of gorse prickles, hay seeds or small pieces of hay, this has to be removed as the processing will not get rid of it all.
Below are two pictures which illustrate the effect of our work in terms of reducing the size of the fleece, which started at wider than a metre wooden rule and finished at at around 90 centimetres wide. It is reasonable for a good quality fleece to expect to remove 5-10%, sometimes less and sometimes considerably more – for instance this fleece had no really matted, cotted or felted areas.  This year when shearing my Gotlands and because of the spring weather conditions, I have actually rejected 4 whole fleeces which were too matted to pull apart so could not be processed – they will go to my friend Kay who makes felted rugs with a peg loom and can use matted fleeces for this.  For Gotlands of course, this shearing is really not the main quality time and the autumn fleeces will be the best and need to have the May shearing to clear the foundation.
So now we have a small pile of rejected fibre and a nice skirted fleece!
Here is what we are aiming for, probably now nearer 2.2kg of skirted fleece.
This will now be able to be made into a nice batch of yarn.
Total time taken, including photographs, probably around 10 minutes.  At the Mill, we aim to sort around 150-200kg of fleece a day, but our customers send us already skirted fleeces to save time and money in carriage and additional sorting costs. 
At The Natural Fibre Company we collect reject fibre and are able to send it for processing into felt or other lower grade products.  This is cheaper than sending it to landfill, much better for the environment and indeed makes use of the fibre, although it does cost us in transport to the processor so it barely breaks even.  For people doing their own skirting, the options for reject fibre and dags are mulch for gardening or cleaner fibre may be washed to use for peg looms and felt – so there should be virtually no waste.