Note: this article has been updated as some businesses have changed.  23rd June, 2019.
Sheepskins are a bi-product of the meat industry and arguably therefore are more acceptable, at least to carnivores, than skins from animals bred purely for the skin, where the rest of the animal, and probably its short and unhappy life, are more open to question.  It is interesting that vegans prefer cotton (high environmental costs of production and dyeing) or polyester (artificial fibre from oil-based non renewable resources with a large footprint in terms of manufacturing and waste) to wool and sheepskins.  I fundamentally believe that, if we are growing sheep for meat, it is wrong not to use their skins and if we grow sheep at all we must use the highest possible standards of husbandry.
The two examples above are from Nicky Port's organic sheepskin tannery.  The page link is now to Mark at Neville Farm, Organic Sheepskins, who has taken over Nicky's tanning business, and covers a wide variety of different types and she also has skins for sale.
Apart from Nicky, the other main tannery in the UK is Devonia Sheepskins at Buckfast in Devon, who have a somewhat minimal website.  They are large and professional, though known to be quite slow!  It generally costs around £25 per skin for tanning with them.
If you are happy to ship skins to Scotland you can also try Skye Skins, who will accept a batch of 40 skins, though their main business is tanning for their own products.  According to The Accidental Smallholder, the ICLT at Northampton University will also tan small quantities of sheepskins.  I have not contacted either of these to confirm this information yet.
Since Gotland sheep are mainly bred for their skins, there was also a sheepskin tannery in Sweden.  However, it appears Gotland skins now go, along with many others to Tannery Poland and there is another Polish tannery which sells finished skins.  Otherwise as far as we know everything goes to Turkey and mostly it goes direct in large quantities via skin brokers who buy from abattoirs.
REMEMBER: sheep wool which felts easily may felt while tanning and will not give a separate lock appearance in the skin and may have to be brushed, as shown in the picture above on the left, which is typical of most of the cheaper, imported sheepskins generally available on sale.  Even brushing will not rescue a completely felted sheepskin, which however will probably be acceptable to your dog or cat …
Sheepskin is most often tanned with the wool still on it, though of course, it is possible to make soft leather and still keep the wool for textile crafts.  To ensure that the wool does not "slip", making "slipe wool" which is also recovered from abattoirs for the textile industry, the skins should be cooled as quickly as possible after removal and then well salted.  Instructions on best practice for salting can be found at the Real Sheepskin Association website publications list and have been copied below.
Recommended Procedures – particularly for small quantity preservation:
1.   Day 1 – sheepskins must receive the first treatment on the same day as slaughter, preferably within 4 hours.
2.   Transfer to separate premises is allowed under Defra regulations but, if untreated, must be within the same day (to
farm, tanner or hide market).
3.   Skins should be laid out on a clean non ferrous surface, flesh upwards, allowing blood fluids to drain into an
absorbent or collecting area for disposal.
4.   Applications of first salting must be applied to the flesh side, using approx. 1 Kg of PDV Salt, covering all fresh,
raw surfaces. Don't trim skins on farm (Defra)
5.   Abattoirs may offer a light salting service to provide temporary intermediate treatment – do NOT assume this is all
that is needed!!!
6.   Day 2 – the second treatment must be carried out on time, up to 1 Kg of PDV Salt will be needed depending on
size and wetness of the skins.
7.   PDV salt mixed with 2% Boric acid is recommended, particularly for long term preservation and warm ambient
conditions. The RSA can be consulted regarding supply of the salt mix.
8.   When skins have finished draining (day 3 onwards) they can be sent to the tannery – secure packaging if
commercial forwarding agents plus Defra approved movement certificates – for website.
Detailed information is available from the Tanner members featured on the RSA website membership page.
Additional important information based on the RSA research is also worth noting:
9.   Current Hide Market and Sheepskin Tannery practice, including 2 applications of PDV Salt, is only satisfactory
within limited conditions and shelf life.
10.   Warm, humid storage will encourage degradation on the flesh side of the skins, Red Heat (a halophilic bacterium)
develops rapidly where the skins are stored flesh to flesh – (anaerobic). This is 'probably' a precursor to woolslip.
11.   The mechanism of woolslip developing during the preservation cycle is not fully understood and requires
considerably more research.
12.   Application of acids or alkalis inhibit bacterial growth. Alkali is not recommended as excess Soda Ash can lead to
woolslip (a fellmongering procedure).
13.   Boric acid mixed with salt does have a disinfecting role but is too weak to provide a simple pH test for control and
does not reach the maintained concentrations required by Defra to kill viruses (less than pH 6.0).
14.   Ultra-violet radiation, coupled with acid or alkali, significantly inhibits bacterial growth. It is predicted that,
applied on the same day as slaughter, woolslip will also be inhibited. This has still to be confirmed by examination
of the stored test samples.
DIY Tanning
It is also possible to tan skins oneself:
PLEASE NOTE THAT THE PHOTOS WHICH FOLLOW ARE OF LOW QUALTIY AS THEY CAME FROM A WEBSITE WHICH IS NO LONGER OPERATING – SORRY! – there is an alternative set to be found at the Glencroft website, which are better definition, though don't include all stages.
---
The Tanning process
1.   Raw Stock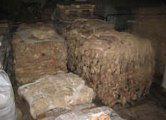 Skins arrive either direct from abattoir, salted loose from Hide markets or salted baled from overseas
2.   Soak
  Re-hydration in warm soapy water
3.   Raw Rounding
  Long pieces are trimmed off by hand
4.   1st Fleshing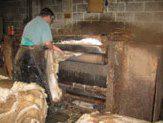 Excess Fat and connective tissue is removed mechanically
5.   Wash
  The second wash cleans and opens up the skin for tanning
6.  2nd Fleshing: a final mechanical cleaning of the flesh layer
7.   Pickling & Tanning
  The skins are first soaked in Sulphuric or Formic acid followed by tanning agents – Aluminium, Trivalent Chromium, or Syntans (modified aldehydes)
8.   Wet Wheeling
  The wet tanned skins for Doubleface are passed over a carborundum wheel
9.   Hydroing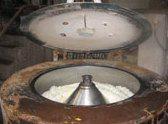 Excess water is removed in a centrifuge – a large spin dryer
10.  Hook Drying
  For the first drying skins are loosely hooked up and gently dried in warm air. Basic rugs will go direct to Toggle Drying
11.   Cageing
  The moisture content is important, conditioned skins are tumbled in a cage to soften
12.   Staking
  Mechanical staking stretches and softens the skin
13.   Degreasing
  Natural fat (tallow) remaining within the skin is removed by solvent degreasing (dry cleaning)
14.   Dry Wheeling
  An alternative leather cleaning process for skins that have not been wet wheeled
15.   Drum Dyeing
  Doubleface selections are dyed, wool first then suede, in large mixer drums
16.   Hydroing: Again, excess moisture is removed
17.   Toggle Drying
  The skins are now stretched out on frames with clips (toggles) and hot air dried in 'cabinets'.
18.   Stoning:  doubleface skins have the suede nap restored by a Staking machine with a carborundum head
19.   Ironing
  The fleece is mechanically teased and polished on a hot rotary iron. Silky, fur finishes can be achieved. Alternatively, natural curl can be restored for character wool breeds
20.   Finish Shearing: the pile depth may be adjusted for the variety of sheepskin product applications 9mm to 30mm
21.   Inspection & dispatch: finished skins are inspected, lightly trimmed if necessary. Rugs are then packed by size.
22.   Pin Wheel measuring
  Sheared skins can be measured to provide a leather area for invoicing and manufacturing
What next?
After tanning a skin may simply be used as a rug.  Skins torn in tanning or with bare parts can be cut and sewn into smaller items, such as slippers or hats.  To make garments, remember that the skin has a grain or "way", reflecting the way the flesh and hairs grew on the animal.  So cutting and piecing to make something will need care and attention.  A domestic sewing machine with a leather needle will sew the skins and pieces together, but remember that any weak parts or missed bits of seams will quickly open and tear.  Working with skins is a skilled craft!  See the booklet on working with sheepskin from the Real Sheepskin Association.  This association is now part of LeatherUK, which is the trade organisation for UK leather goods producers and tanneries.
If all of this sounds a bit much, sheepskins and products can be obtained from Celtic and Co at Newquay in Cornwall, Ambleside Sheepskins in Cumbria, who also do goat skins and cattle hides, Glencroft Countrywear or Lambland in Exmoor.  In many cases nowadays the skins may well be from British sheep, but if they did not go to Devonia, they could have travelled to Turkey, India or China to be tanned before returning to be finished in the UK.  However, in researching this article I found a wonderful site, the only UK manufacturer of sheepskin parchment and goatskin vellum, William Cowley – enjoy!!
Finding alpaca skins is a little more difficult – Toft Alpaca will only use skins from animals which have died naturally and does not support killing these animals only for their skins – most alpaca skins will come from South America.  Where there is a full value-added chain, as for sheep and goats, so that the wool/fibre, milk and meat are also the reasons for obtaining skins, and where there are high welfare standards, sheep and goat skins from the UK can be more responsibly bought, or of course, where you have done it all yourself.