The lambs grow wool quite quickly and it is the finest and softest they will produce (even from Nathalie!).
So here they are last week: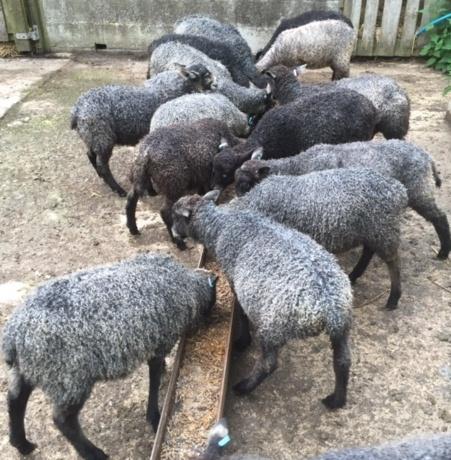 The larger, darker ones with longer tails are the cross-bred Gotland/Blue-faced Leicester lambs and the paler smaller ones with short pointed tails are pure Gotland.
And here they are this week!
This close-up shows the lovely "watered silk" texture of the shorn wool on the skin typical of Gotlands due to their fleece characteristics and also the differences in size – notable with single lambs and also with the cross-bred lambs.
And here is Nathalie, before and after!
She is still by far the smallest and is very lovely, but her coat is a disgrace to the Gotland name!  I shall have to see how things go – Gotlands only really grow into their fleeces after about two years, so there is yet time for improvement (deterioration would be a challenge in her case!) …
And here is Jasper, who is being given extra treats for the time being, as he has become rather thin, though he is clearly healthy – he is the farther away of the two and is clearly too thin at present.