Gideon has been back to shear the lambs.  This entails a lot of noise!
The 16 lambs were brought into the barn with their mums the evening before and left overnight without additional feed or water, to reduce the stress of shearing on a fully belly.  So they yell, and then, when separated from their mums, they yell some more …  although the mums seemed pretty relaxed and even perhaps a little uncaring?
We started at 8.30 in order to try and avoid the main heat of the day.  Not just shearing, but each lamb was assessed for condition and also given its second, electronic, ear-tag and its second dose of Heptavac P which is the most important vaccination for sheep as it immunises them from pasturella and various clostridial diseases which lurk in pasture and can kill lambs and sheep very quickly.  We were pleased with the quality, growth rate and general condition of all of the lambs, which is a wonderful result and none of them showed signs of scouring or foot problems!  This is a great blessing!
As the fleeces come off, I sweep the shearing board between each lamb and clear off the straw and any poor quality fleece, which goes to my friend Kay for mulch on her market garden.  I also prepare and record the injections and the ear tags for each lamb.  The fleeces then go into sacks according to the colour: pale, mid or dark.  This year we had a total of around 11kg, of which 3kg was dark and the rest mainly mid.  The fleeces were fine and long and I was pleased with them as well.  For lambs we can use the belly wool as well, and we have a lovely small and precious pile of softest wool for blending.
Gotland lambs when shorn still have a lovely watered silk effect of the short wool on their skins, due to the crimp and sheen and the way the fleece grows.
We also checked over the ewes, rams and wethers and addressed a couple of sore feet. 
Then we sheared the three retired sheep, White Lamb, the twelve-year-old 7/8 Gotland/Romney cross ewe, and her two Gotland wether companions Arthur and Albert, who used to live down the road with Anna Tappin and who then went off to a new home with Sue Carter as Anna is moving.  White Lamb is clever: the field where she has been living is large and without useful corners for capturing sheep, and White Lamb understands the use of sheep trailers so unless I arrive with only the truck or on foot, nothing will induce her to enter the small enclosure where I feed them for a couple of days before my dastardly transport plans are undertaken.  However, White Lamb is a real sucker for banana skins, which is her downfall, and so after several long evenings of trying not to lose my temper (a  useless thing to do with sheep) and/or using a netting fence like a fishing net in past years, we have evolved a simple and effective means of catching her … and it worked again this time, thank goodness!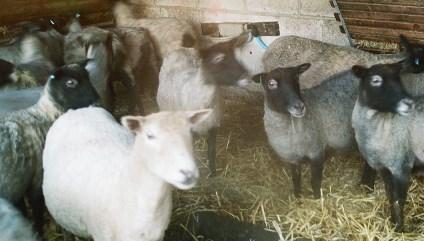 Above is White Lamb after shearing 7 years ago!  She and I have not always seen eye to eye on things, which may be why this is the only photo I can find of her.  She did however consistently produce and rear two boys and two girls in alternating years, always one white and one grey, for many years and we have a goodly stash of the fleeces of from her and her white lambs awaiting a special project at wool mill.
And I swept out the barn and tidied up as well.  Makes a change from the gymn!