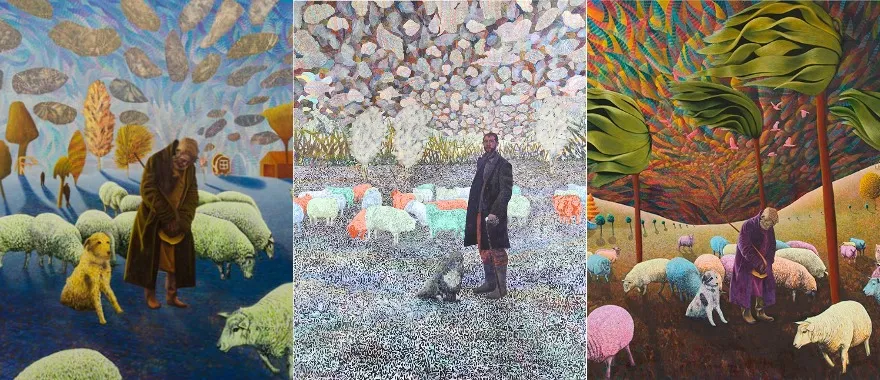 Images courtesy of The Saatchi Gallery
At the Mill we have been thinking about art – for reasons which will become very clear in the near future!
So we have been hunting around for some sheep in art… please do follow the links to see these lovely things in greater detail, and remember all artists need patrons!
A current favourite of Sue's, as shown above and also of the Saatchi Gallery, is David Smith. A shepherd's son from Shropshire, his images of a shepherd and colourful sheep are very engaging and beautifully structured into the paintings.
Sheep express peaceful rural landscapes in a very special way, as well as being great images for winter snowscapes.  Historically the sheep, and more particularly the lamb has been seen as a symbol of purity and a state of being without sin, a symbol of the child of God – therefore the Christian Lamb of God concept, who somewhat anomalously grew up to be a Good Shepherd.  Later came the use of the lamb image as an assay mark on Cornish tin ingots to prove purity. Sheep and their portrayal in art have both changed drastically over the centuries – something which we are going to explore!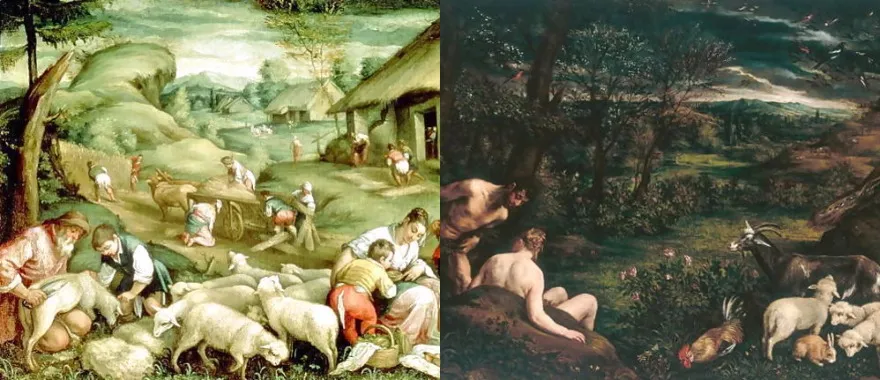 1520-1580: Mannerism. 'Summer 1570-80 Francesco' by II Bassano and The Garden of Eden Jacopo Bassano. The Mannerism Movement emerged during the later part of the 16th Century, which later developed into the Baroque style of the 1600's. The images are heavily weighted in their composition, while every care was taken to get 'perfect' proportions, even if they aren't completely accurate (for example, elongated limbs with stylized features).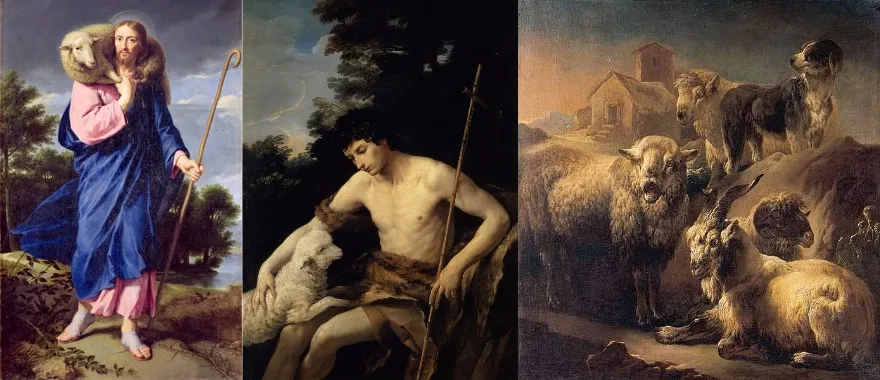 1600-1750: Baroque. 'The Good Shepherd" Phillipe De Champaigne, 'St. John the Baptist in the Wilderness' by Guido Rene and 'A Goat, Sheep and a Dog Resting in a Landscape' by Philipp Peter Roos. The Baroque Movement consists of dramatic composition and beautiful details while reflecting the religious tensions of the age. There became an awarenes of people and nature, meaning sheep were featured more frequently!
1800-1850: Romanticism. John constable's 'The Cornfield', 'The Shepherd David' by Elizabeth Jane Gardner Bouguereau and 'Sheep Watering by a River' by Anton Mauve. The Romantic movement became more about fanciful self expression and individual uniqueness. The landscape was regarded as an extension of the human personality – often portraying the emotions of the painter.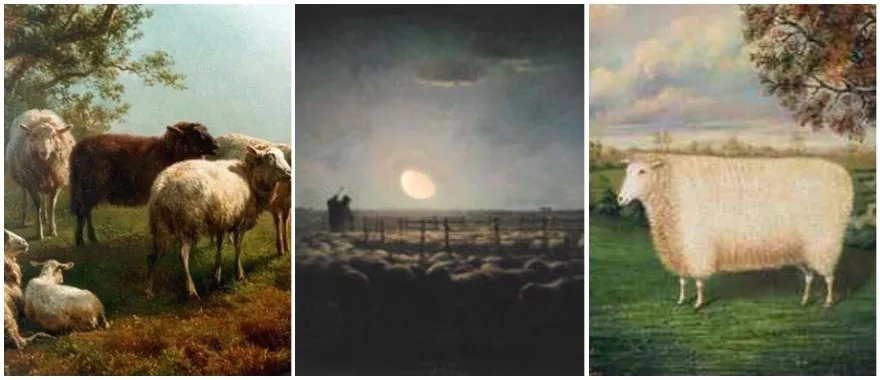 The classic large white Lincoln sheep above right, in the style of Stubbs, is in fact by Adamson, while the lovely moonlight scene is Millet and the group of sheep is by the Dutch artist Bedjis.
A good reference site for these artists, is 1st Art Gallery, where there are also interesting pictures of various stages of shearing and sorting fleeces by George Lambert (centre below) and this site also supplies reproductions of these paintings!  There are then the more Blacker Samite related, impressionist or pre-Raphaelite paintings in the nineteenth century such as Pearce (left below) and Dupre (right below).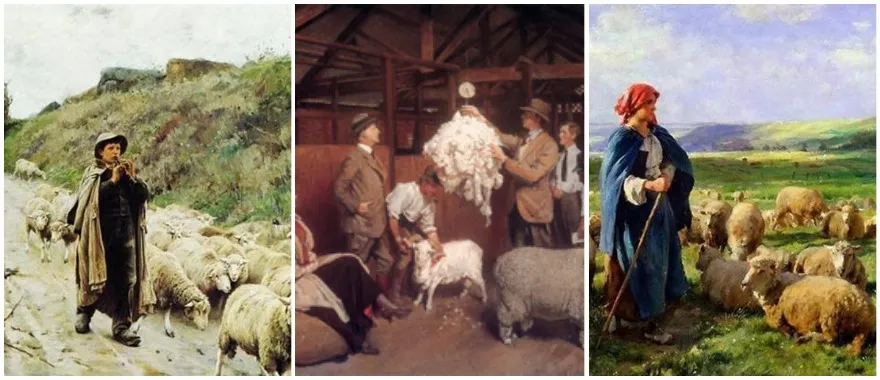 At many of the agricultural shows we visit, we see artists in residence and there is something wonderful about sheep in art.  We have discovered and like several contemporary artists who feature sheep.
Modern Art: Current.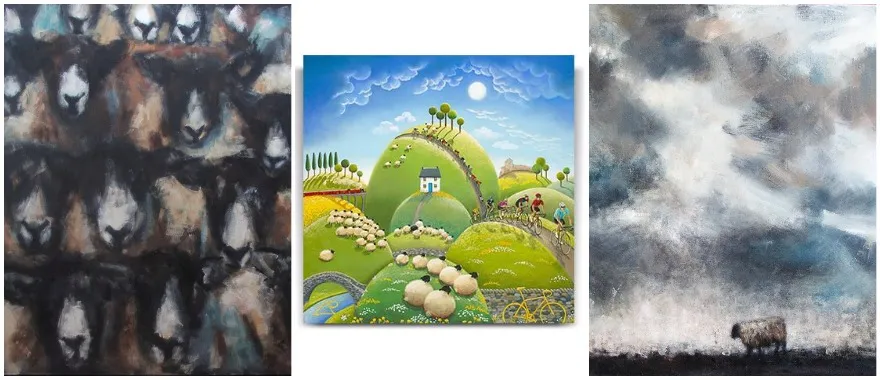 Another Yorkshire artist, Lucy Pittaway, (see centre above) has delightfully whimsical pictures of sheep on the hills, often regarding passing people – some of course on bikes!  It may be because of Yorkshire having many sheep that there is also a lovely selection of humorous designs from Christina Harris left below, or you may prefer something by Sandra Parker right below, from Harrogate, or possibly the more pastoral style of Karen Margulis. We also found lovely art featuring sheep in snowy landscapes, as, despite being mainly shown as white, the theme of white on white seems to inspire artists … of course we are also interested in shades of colour on white, grey and fawn as in our Classic, Blacker Swan or Tamar yarn ranges …. and perhaps this will also inspire our thinking in the next few weeks …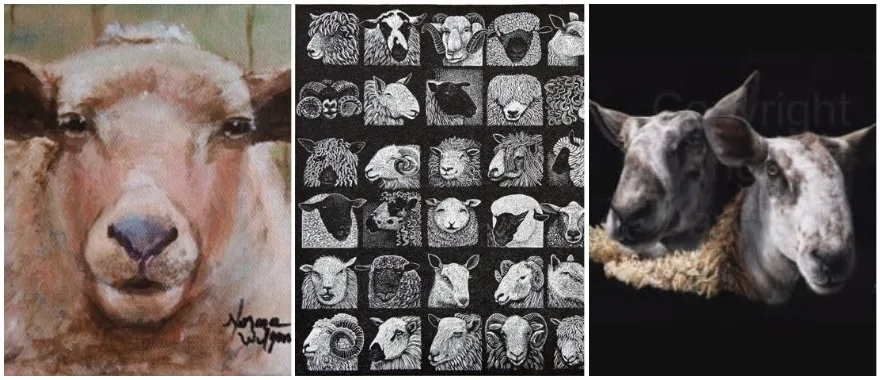 The heads of sheep are endlessly fascinating, partly because they are so varied and partly because they are a wonderful shape. Katharine Lightfoot (left and right above) based in Devon, is a great contemporary example of sheep heads.  The centre picture above is by Hilary Paynter, and one of our absolute favourites, given our interest in single breed yarns!
For those who do not themselves paint or sketch, or who can afford a little more than a postcard, acquiring art is also an option perhaps and the huge Daily Painters site, has sheep pictures in a very wide variety of styles.