14th April, 2013: This is the last post!  Here are some of the people involved …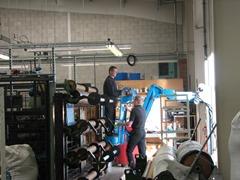 Phil Henwood the electrician had to move all the power from above to below the mezz, install additional lighting above and below and also additional power, plus power for the new office featured in the blog of 16th March, 2013.  Phil started with his wonderful lifting maching but in the end they resorted to ladders!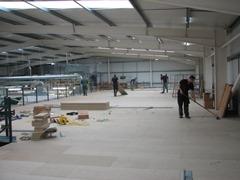 Mill staff sweeping, David in the foreground, James wielding the sweeping brush as a change from running the carding machines, James and Micheal erecting the first set of racking and Paul's lovely new desk (but we can still never find him!).