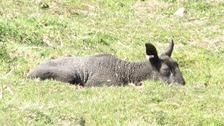 Blue-faced Leicesters love relaxing!  And there has even been some sun …  BFLs (for short) are born quite dark and gradually fade a little, and have soft silky dark hairs on their legs, which makes them look a bit like small cart-horses, but these hairs gradually disappear.
Gotlands do not go in for sun bathing to the same degree as BFLs ….
Gotlands are all born with black silky hair and this gradually morphs into their lambswool fleeces, when we begin to see what colour they will be – from pale to quite dark grey.  However, sometimes they change colour from year to year, so my plans for a mixed range of greys never seem to quite work out …  The second picture shows a large, early born lamb with two smaller, later born lambs: the first of my lambs arrived on 28th March and the final one came on 30th April. 
My final total was 23 lambs, with only 9 ewes.  One ewe has already been sold for bottle feeding as she was going to be better off on a farm with more regular attention, so there are 22 in the field, along with 17 ewes.  The weather did not help this year and I lost more than I have ever done: altogether 5 died of the cold and 1 died due to a twisted bowel, which, sadly, is inoperable in small lambs.  Usually I lose none and to date I have probably only lost around 3 in total, so this was very hard to bear.  I am working hard to keep the 22 alive!  We will be vaccinating in another 6 weeks, once the youngest is 6 weeks old and meanwhile have treated all of them with anti-biotic blue spray for limps, to reduce the risk of spreading infection. 
I have also, now the weather is warmer (!) turned them out of the damp and smelly barn full of a winter's deep litter and they can enjoy the fresh air in the fields.  It's time to call in Simon, the mini-digger artist, to clear out the barns and stack up the muck heap so the barns can breathe and be disinfected and the muck heap can mature nicely ready for spreading next winter.