This is Harry.  He always had an interest!
And an appetite!
He was born in April, 2007, the day before my birthday.  His mum, Polly, did not want him although she accepted her daughter, Mimsy, who went to Cumbria to live with the Eden Valley flock.  So Harry lived in the kitchen, drank milk from a bottle, and travelled to and from the mill at Launceston.  It is one of the most frustrating things that I cannot find the pictures taken of him on the weighing scales at the mill,  but lambs move quickly so they were probably all blurred anyway!  As a result he was particularly tame, friendly to strangers, though also disobedient and occasionally stubborn, and I could always recognise his voice.
He has always been one of my greatest sheep in terms of friendliness and character and a most useful Gotland ambassador.  He did not have a great fleece and latterly he has had increasingly bad feet (due to weight perhaps – his greed did not diminish with age) and rheumatism.  In addition, he has had caseous lymphadenitis for a while, which is a very infectious and irritating, though not dangerous disease, and could not be allowed to spread across the flock.  It was therefore time to go.
I could not bring myself to eat him or take him to the abbatoir, or tan his skin, so he died at the field, quickly, with the help of the kindly knackerman.  Along with him died Jonsson, son of Jonathan, father of four nice ram lambs born this year.  Poor Jonsson, although fit and well in himself and clearly well up in the butting hierarchy, managed to survive pasteuralla last year and as a result was blind in one eye and had a partially paralyised jaw, making eating more difficult.  So since he had sons, he also could go.  I don't have any pictures of him as he was never at the forefront of the crowd and was never for sale!
Taking on a flock of sheep and managing them means some have to be killed sometimes.  But it still hurts, whether done in kindness at the end of a good life or more commercially for food and skins.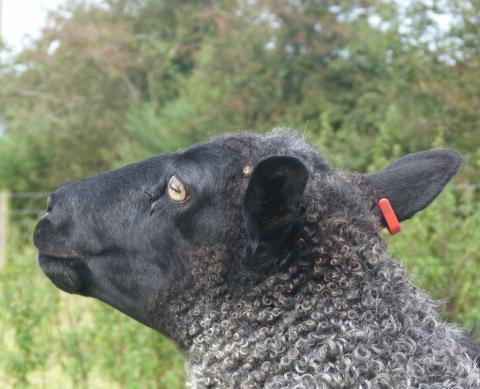 You can also see Harry with me on my Facebook profile picture, but this piece is about him, not me.