Ah! I started this right after doing part of a Facebook post about our own Christmas meal and intend(ed) to post a link to this post in it – to show how the sheep had their Christmas meal.  But some kind person brought a glass of red wine to help inspire me, and with my first creative gesture I tipped it all over my keyboard – so half a roll of kitchen towel later (the edges soak up wine quite well between the keys) and with some rather sticky keys, I am back in business.
My son, Sam, kindly took the photo's.  The one above is me returning from the truck with foot spray for a couple of the young rams – it will be a full session tomorrow on feet, but today it's Christmas so we are dealing with those who need it …  they have spent the whole week sitting comfortably in the barns with loads of straw and hay and feed and relaxing … out of the weather – given that you will see that we took away their wool a couple of weeks ago – just in time for the storms. 
My barn has suffered a bit, with a gutter detached and some water-proofing blowing around in the wind – but will have to wait until the next storm and then deal with it all.  The roof is still good … so far!
Here are the girls …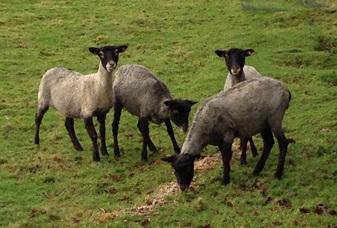 And the boys …
And the lovely sky!!
So we opted for the fire-side and not a walk …
Happy Christmas!