As many of our avid readers will know, we have been working on a new Blacker yarn range, being launched this month!   This is a permanent addition to our ranges, designed to complement the others, providing a further range of textures and fabrics, a luxurious feel and adding to our colour palettes.   The colour cards are available right away and the full launch is on 23rd March, 2017.
Samite is a fine yarn, woollen spun for loft, stickiness and softness and will be a 2-ply construction which is about as fine as we can go with our woollen processes.  So it will be similar to a 3-ply yarn, thicker than our lace and finer than our 4-ply, to work on 2.75mm needles for a basic fabric, and larger of course for lace styles.  This is not the fastest to work with and will repay the time with a dense, light fabric with very good stitch definition due to the composition. 
As a woollen spun yarn, Samite is also naturally more uneven in construction than a worsted spun yarn, particularly when blended and finely spun, so the yarn weights and yardages will vary more, which has been a challenge to Sadie and her team in finishing the 100 gram skeins and you may find the natural variations greater than usual – we believe this is important and adds reality and individuality to the yarn, so you have been warned!
We have blended 40% Shetland (mostly from the Westcountry), 30% Blue-faced Leicester (from Wales and the Westcountry(, a 10% smidgeon of Sue's own Cornish Gotland and a nice 20% dollop of silk from India.  We have used naturally coloured Shetland in fawn and pale grey to make a pale fawn base, a bit similar to the second St. Kilda batch.  This, of course, is our trade mark Blacker base – not quite white, but warmed up or cooled down with a trace of naturally coloured wool.  In this case, we have chosen a warmer base, which will contrast with the grey undertones of Tamar and the Hebridean/mohair blends and is more similar to Lyonesse, Manx/mohair and some of the Blacker Swan.
Working on the composition, we were aiming for the soft, smooth drape and semi-lustre of the Blue-faced Leicester, with the soft, bulky, airy froth of the Shetland, the smooth darker hints with lustre from the Gotland and then the nubbly effect of the special silk we have chosen.
We had been wanting to make a yarn with silk for a while, as we feel it complements our other range fibre compositions, though we were concerned about getting the right silk.  Almost all silk is made by killing the silk moth grubs in getting the cocoons unwound – otherwise the grubs eat their way out and cut the threads, thus reducing the length.  We had previously understood that Tussah wild silk was different but we were then told that the same applies here too, which delayed us a bit…  until we were told about ahimsa silk.
It is of course essential that at least some grubs turn into moths to make the silk of the future!  So we asked a bit more and found an answer in ahimsa silk, where the cocoons are cleaned after the grub has emerged.  
So the ahimsa silk comes to us in soft, clean little balls, after it has been de-gummed with hot water.  They look like a pile of rather squashed, small cotton wool balls and you can tease them out by hand.  Our trusty Fearnaught and carding machines then blend and card them with the wools to create a heathered fawn base with some of the silk really blended in and some remaining as little nubbles, a bit like Thai silk fabric.  The silk, although a protein, takes the dye more slowly than the wools, and the Gotland and Blue-faced Leicester take it a bit more intensely than the Shetland.
So we have a rather nice base to get depth and brightness in dyeing …
We see this as a slightly old-fashioned, retro, historic, traditional sort of yarn and the silk content inspired us to use the old word for a medieval luxury, twill woven silken fabric, Samite, as the range name.  Again this picture is taken from Wikipedia, where samite is described.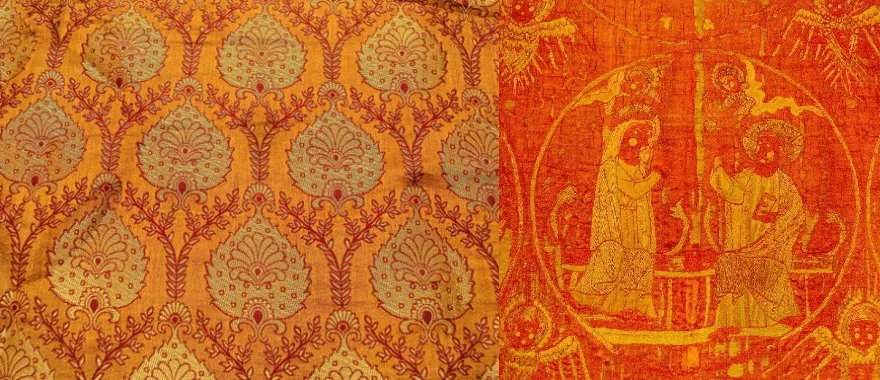 Image credit: China Silk Museum
Sue knew the word "samite", being something of an Arthurian follower, not surprising for a Cornish born person!  She remembered the Tennyson Lady of the Lake poem when an arm clothed in samite rose out of the lake to catch Excalibur thrown there by Sir Bedevere on the instructions of the dying King Arthur.  So then came more inspiration, from the pre-Raphaelite and romantic poets, and the colours and after much research and quite a lot of discussion, their names were born.  The palette is of rich, quite saturated, shades which will work together or separately and depart into more warmth and fire than our clean, clear watery Tamar or dry, clean Lyonesse shades, and complete our Cornish trilogy!
Then come the colours – first we need to know the base well and see what dye colours will work best with it.  Then we need a bit of a theme to create a palette of complementary and supplementary shades.  We chose the pre-Raphaelite period, and Arts and Crafts, with Victorian poetry to combine into the smudged, vibrant range of shades, from cool to warm, and named from lines of poetry.  This inspiration links to the creative urge and we hope will inspire wonderful craft ideas.
We chose Trenython Manor http://www.trenython.co.uk/ near Tywardreath in Cornwall for our photo shoot, as there is an amazing dining room panelled in carved wood brought from many old churches by a previous owner.  The panels are a bit like a varied patchwork quilt and there is also a little stained glass in this rather astounding Italianate building, paid for by Guiseppe Garibaldi to reward his lieutenant, Colonel John Peard, and built in 1872.  Peard was basically a mercenary, resembled Garibaldi physically and helped him win battles across Italy in the Risorgimento.  Wikipedia, of course provides more information!
So now you know!!