The Royal Cornwall Museum's collection of South West of England mineralogy is one of the finest in the world. 
At its heart is an outstanding early collection of minerals made by Philip Rashleigh (1729-1811), the most famous of Cornish mineral collectors, who lived at Menabilly, near Fowey (the house which inspired Manderley, the de Winter home in Daphne du Maurier's novel, Rebecca).   Rashleigh collected over 3000 mineral specimens and meticulously labelled and recorded them in his manuscript catalogue. 
The mineral collection formed by Mr James Wickett (acquired by the RIC in 1922) is another large collection; it is substantially Cornish in origin and additionally rich in specimens of cassiterite (a tin ore) from around the world. 
We were privileged to be allowed to photograph our Cornish Tin yarns alongside some of the most beautiful items in the collection.  The samples were carefully carried down from their display cases to the workroom and gently placed on some genuine Delabole Cornish slates; and then we arranged the yarns beside them to link the colours together.   We owe special thanks to the curator of these treasures, Sara Chambers, and her staff, for helping us and we are VERY pleased that several of them, including Sara, are knitters!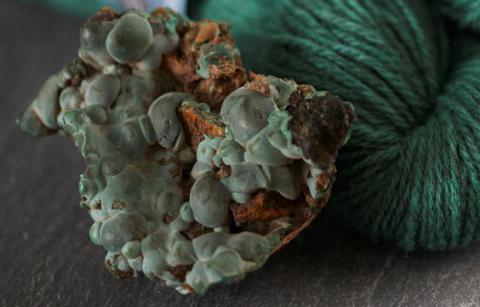 Pengenna Green DK: with a Malachite sample collected by James Wickett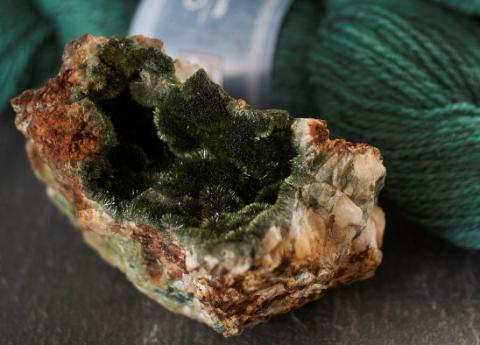 Pengenna Green 4-ply: with an Olivenite sample – this is Sara's favourite mineral and the beautiful tiny needle crystals are amazing
Dolcoath Turquoise DK: with an Azurite sample on Malachite, collected by Philip Rashleigh
Dolcoath Turquoise 4-ply: with a Malachite sample on quartz
Botallack Blue DK: on another Azurite sample on Malachite, collected by Philip Rashleigh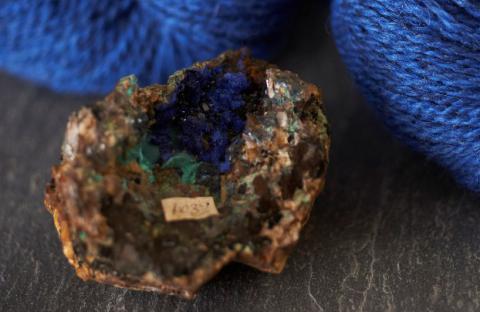 Botallack Blue 4-ply: on Azurite on Malachite, again from the Rashleigh collection and still with his original sticker used to identify it
Levant Grey DK: with natural copper, carefully separated from the rock to show the veins as they occur
Levant  Grey 4-ply: with another piece of natural copper, slightly oxidised
Wheal Rose Red DK: with Tetrahedrite, tarnished with chalcopyrite to give an iridescent effect
Wheal Rose Red 4-ply: with Cuprite in crystalline form
The Royal Cornwall Museum shop will carry Cornish Tin yarn for sale for a limited period …
And here is a close-up of the amazing Olivenite crystals: