I spent the day on Wednesday and again on Saturday in the Shearing Shed at the Bath & West Show, which is celebrating its 150th anniversary this year.
We helped last year too.  On these days there are demonstrations and talks all about wool and shearing, while the sheep shearing competitions happen on the Thursday and Friday.  The demonstrations included hand blade shearing, which uses the same tools as used over 4,000 years ago and are still used extensively, mechanical wheel-driven shearing (by humans!), a wonderful 1952 Lister steam engine which drives 4 shearing sets and modern electrical shearing.  You can gues which drew the largest  crowds!
It's worth saying that the shearers, Tracey Pullin (first photo above), Richard Pullin and Dave Takle (second photo above) and Andrew Wear (partly visible in the first photo), are all champions; and their skills and stamina are world class.  Tracey is one of the very few lady shearers, does both hand and electrical shearing and is renowned for the almost nil second cuts in her shearing.  Shearing all day is roughly equivalent to running three marathons!
We also talked about wool, why it is the best fibre, what can be made from it and how sheep produce it.  Including the range of sheep breeds – there were Shetland, Ryeland, Poll Dorset and a most impressive Dorset Horn (see corner of photo!) to provide real life examples, as well as the 2,000 sheep shorn in the competitions and 200+ sheep shorn in the demonstrations.  The demonstration sheep are from Andrew Wear's Fernhill Farm at the top of the Mendips.  Here he also has beef cattle and pigs and an environmental approach which includes full water treatment on the farm and camping barns, craft workshops and other events.
His sheep are Shetland, with Teeswater, Texel, Romney and (my) Black Blue-faced Leicester rams to provide larger lambs for the meat industry as well as wonderful soft and fine fleeces.  We buy the fleeces for yarns and are also planning a plot for woollen working shirts – still at its earliest stages at present.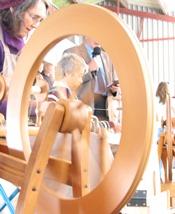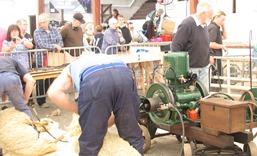 Also there were wonderful demonstrators from the Somerset, Gloucestershire and Dorset Guilds of Weavers, Spinners and Dyers, Jim Lake's amazing historic shearing machines, Gwenan Paewi who demonstrated fleece handling (this is the important cleaning and rolling of each fleece as it is shorn), Farmer John of Radio Devon fame, who gave a commentary, Alison from the Wool Board, 5 very helpful volunteer students from Cannington College and the famous Arthur Rundle, doyen of sheep-shearing competitions across the West Country, and on his way to preside at the Royal Cornwall Show next week, having done the Devon Show the week before – no rest for the wicked!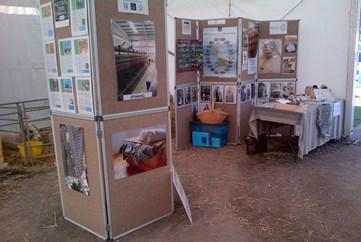 We had a small stand in the shearing shed, just next to the most impressive Dorest Horn family, and showed samples of rare breed yarns together with the pictures of the sheep as well as illustrations about wool, spinning, knitting patterns and case studies of Natural Fibre Company customers.